About Us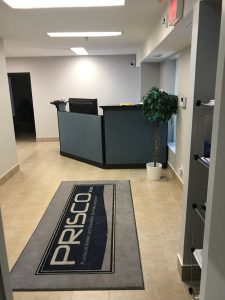 Prisco Vans insulation and refrigeration company is conveniently located in North York at 161 Deerhide Cres. Close to HWYS 400,401 & 407 making it easy to stop in, sit down and discuss your vehicle requirements.
Visit our showroom to discuss your transportation needs and educate yourself on our revolutionary Thermoliner product!
Prisco Vans Inc.
161 Deerhide Crescent, Unit 2
North York, Ontario
M9M 2Z2
Canada
WHY CHOOSE US?
…Prisco Vans offers our customers more choices than the competition!
YOUR CHOICE OF INSULATION
ThermoLiner™ insulation is available in 2, 3 or 4 inch thickness, providing an incredible R8/inch insulation value. Our high density closed cell foam insulation is bonded to either pebble or smooth finish galvanized metal. Wood framing is not utilized and there are no exposed screws or fasteners that can rust or leak. Food grade sealants and finishes are utilized to ensure a HACCP compliant system. Floors are also insulated and either coated in high strength impact resistant epoxy, or high polished diamond checker plate aluminum. We also offer a full array of optional extras designed to suit your needs. We stand behind our products with our two year warranty and nationwide reefer service outlets.

YOUR CHOICE OF NEW OR USED VAN
We can accommodate your purchase preference by retrofitting a used van, or insulating & refrigerating a new vehicle such as a Mercedes Sprinter (through our preferred vendor partner Mercedes Benz Canada) or any cargo vehicle to suit your needs, in a multitude of sizes.

YOU CAN EVALUATE OUR PRODUCT FIRST
Our valued customers are our best advertisement. We can refer you to any of our customers to learn firsthand, how ThermoLiner™ outperforms all existing liners on the market today.
YOU CAN GET IT FIXED FAST
We offer a nationwide network of service outlets that can maintain or repair your refrigeration unit. Parts & Service Technicians can even come to you. This reduces profit loss & downtime due to backordered parts or extended service wait times.
YOU CAN HAVE IT DONE QUICKLY
Our advanced manufacturing techniques and flexible scheduling facilitate an industry-best turnaround time. No one can match our turn around times!
OUR ACCREDITATIONS
Prisco Vans Ltd is an authorized preferred vendor for Mercedes Benz Canada. Our insulation systems are quickly becoming the industry standard and Mercedes Benz Canada recognizes this fact! We are also a preferred vendor for refrigeration companies such as Reefer Sales Canada Inc.
OUR EXPERIENCE
We have over 10 years combined experience in the transportation refrigeration industry and over 40 years automotive service experience with our inter provincially licensed automotive service technicians. No one else offers this level of experience and knowledge!
OUR QUALITY
Our insulation systems are the strongest & most durable on the market today, with payload characteristics that allow more payload. We maximize your available space and use lightweight materials to allow maximum payload capacity. Our computer-aided manufacturing processes ensure precision manufacturing and fit. PRISCO Vans Ltd. proudly offers a warranty on every van insulation system. Our warranty covers all materials and workmanship for a full two year period. Extended warranty plans are also available. During the warranty period we schedule (at your convenience) a routine inspection to ensure our product lives up to its name. Our warranty provides peace of mind ownership. We take pride in what we do!
OUR ENVIRONMENTAL CARE
Waste is an ever growing concern in any industry. Prisco Vans produces less waste and garbage by recycling metals. We also reduce waste by reprocessing foam cuttings to seal areas that required special insulation.